I've had some trepidation about being able to get out pheasant hunting this year with my old legs. I've been walking regularly, but recovery takes longer these days. Wasn't sure of how I'd do.
Finally got Tinker out and we walked a portion of the State land near here. One other guy out there, and while Tink did a good job of searching, not much drew her attention.
About 2/3s of the way in, she got birdy, locked into a point, then moved about three feet ahead and locked up again...then perked her head and first slowly, then in quick-step tracking moved forward and the bird went up. I drew feathers with the right barrel (imp cyl) and downed the rooster with the left (mod.)
Tinker was a peach, with good searches and a fine retrieve. I can honestly say I've hunted another year. I'll see what the physical repercussions will be, but I'm hoping I'll have a bit of a season.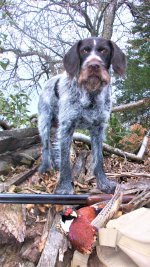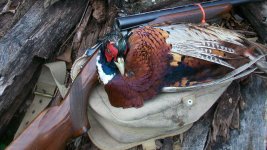 Last edited: