Hey hunters in Iowa, feel free to throw a pic on this thread with as much or as little info as you care to share.
My season opener was pushed back a week, so I had 2.5 hours this morning to kick it off. Was out with my good hunting buddy, my soon to be 86 year old father and a family friend who traditionally hunts opener with us. Two walkers and 2 blockers.
I have a pretty new GSP (Gus), who showed last year he would be a keeper. He was fine, control was OK, never used the shock, he needed a few "tones" I missed a bird I shouldn't have, shot an easy one and then got a double from a triple flush. My buddy knocked down a late flusher a couple seconds after the triple broke, it was a runner and eventually shook the dogs. He also dropped the first bird of the day that I had swung and missed on...he was pretty proud of that one, but it also managed to elude the dogs. So our quick morning hunt netted 3 roosters ( 2 older and one young bird). But it was a great morning!
That corner of cover in the background is in the pic, just happens to be where the 4 roosters flushed from.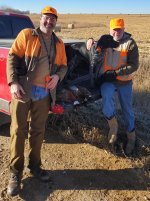 Last edited: