I managed to free myself up for a three day closing season Kansas hunt. My hunting partner and I agreed to stay through Monday to finish out our season. Since it snowed on Thursday we thought there was a chance some snow on the ground but when I got to my home away from home there was less than an inch. We actually had no snow to speak of in any of the fields, so our joy was quickly dispelled.
Saturday morning started out cold and crisp. First stop is a good prairie chicken field. We have taken to hunting chickens primarily with pheasants as a bonus bird. You never know about chickens. Sometimes they feed early and other times they linger before heading out. A lot of times you spend a lot of time walking for chickens, but when you find them there's nothing like a covey rise. It is a large field that has two ridges and is surrounded by feed. Nearing the end of the first ridge a small covey of chickens burst out of the short grass just out of shotgun range. We moved in quickly to search for any stragglers. There weren't any so we turned towards the next ridge. Partially down the ridge my dogs got birdy on a terrace. My Springer hot on the trail made a sharp right turn and charged. The chicken burst from the grass clucking. A quick shot rolled him. Working our way up the next ridge my hunting partner jumped two chickens. Two shots but managed to whiff them both. At his shots a covey of over 25 birds took to the sky way out of range. I covered as much ground as I could to close in on where they went out but again no stragglers.
After a lunch break we took a 45 min ride to a fairly productive field for pheasants. The main ditch held nothing so I headed off across the cut wheat, my partner headed along the roadside ditch which seemed to hold some promise. Almost back to the truck my Springer got hot birdy. My lab soon followed. They both started pushing back towards me in the knee high stubble. They got to within 3 feet of me when a rooster burst free. It took me a minute to get going as I initially thought it was a hen because he sat so tight. He rolled at the shot and went down.
We made our final stop for the day at a little strip of weeds and trees that generally holds birds. It also holds a bunch of burrs. We worked through the trees to the end where I met up with my partner. My lab had a burr so I bent down to get it out. I was talking about our next course of action as my Springer, who never stops, flushes a covey of quail right next to me. My hunting partner snaps off two quick shots. Nothing falls. As I stand up more birds break from the weeds. I drop a bird then swing on another that dropped at my second shot. We hunted around for singles but weren't able to get any other shots without endangering us or the dogs.
Our day came to a close and we headed back to the house.
I thought to myself great day, a John Wayne day as we call these. I bagged a chicken, rooster and two quail. Good way to start the last weekend.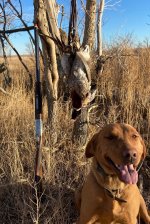 Sunday we hit fields to the south of the house. Most seemed to be devoid of birds. I think that most of the birds were out feeding as it was 50 degrees out by 10am. While working a draw we ran into a rooster that jumped well out of range. A second rooster wasn't so smart and flushed less than 6' from my feet. He rolled at the shot and crashed in to swailie grass. After that we flushed hen after hen on our way back to the truck
.
The day got hotter and the dogs were tiring. I decided to hit a CRP field that holds chickens. We walked back towards the far corner. We crested a ridge when the covey broke. I dropped a bird on the initial rise. My partner did as well. I kept walking towards where they flushed. Another sprung from the grass and I rolled him. Limited out! My partner swung the corner and jumped another straggler. He connected and the bird crashed to the ground. All over in a heartbeat. We decided to call it a day as the sun was setting and we could both hear the scotch ice calling.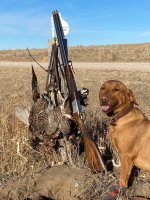 Monday was uneventful and the season ended on a quiet birdless day. We saw a lot of hens but only one rooster that was sneaky enough to squeeze out of some high weeds and fly dog height above the CRP.
We were very fortunate that we found the prairie chickens in good numbers. Pheasant numbers were the worst I have seen them on years. Hopefully the weather will be better for the hatch and the bird numbers will come back.
Last edited: