You are looking at a wet, tired, but very content hunter after a little over 4 miles logged in the fields today.
Sophie and I began our journey on public today. We worked two hen points and noticed numerous tracks. Reaching the field edge provided our first indication of the residents--seven roosters and 5 hens watching us from the middle of their "moonscaped" bean field.
As Sophie and I retreat I realize the public grasses are going to continue this pattern. Time to switch it up--I remember that the creek banks are full on the north side but relatively free of snow on the south sides.
As we travel, I begin noticing roosters in the groves. Lots of them. We arrive at the northern side of the section and I see our 12 friends from earlier. They are now "roosting" in two pine trees. Quite a sight--I saw this often as a youngster--but now it is rare to see so many birds in a tree in broad daylight.
Several miles later we have a higher standing stalk picked corn field and I see several birds actively feeding in it. As we venture out to intercept them they flush wild and land in an adjacent field. We flush five roosters and four hens. Sophie and I worked the area they were in for "hopes" that we would have a holder or two. No such luck today.
Our first creek does not appear to be much from the road. White dominates the landscape but I notice some woody areas farther out in the field and a strip-maybe 200 yards of switch grass beyond that. Sophie and I hit the field. We have many tracks shortly after entering the field. I notice many are out to the bare spots in the beans. Feeding--it appears over several days--and back to the cover. Our first flush--wild--a hen glides 30 to 40 feet and glides back down into the cover. Our next two hens are points--staunch and in not much cover. I head a little south to go around some drifting snow and as we get back to cover our next point--a hen--staunch like the first two. I notice an uptick in Sophie's behavior. As I watch the hen she attempts to drop in the cover when not one, two, but five roosters rise and then drop back down with her just 25 yards or so ahead of us. As Sophie and I begin to close the distance I see we are close to the switch grass. I remind myself to take it slow--these chances don't come along much now--and to relax my breathing. Good shots--patience is the key now. As we enter the switch grass two hens jump wild and glide down the strip. I notice both re-enter the end of the strip. I am at full attention now and anticipating that rooster. Sophie is so full of scent and roosting spots that her breathing imitates that of an "overweight pug dog". I have witnessed this before and it supports my hypothesis that more birds may be in this strip.
Calmly we continue on. Our next point is solid and a hen. She is the first bird to head back to the west. I whirl at a wild flush and it is rooster one heading low out of the cover. He drops to a shot of prairie storm 5's. I do not hear him moving but head to the drop site. We have two roosters wild flush from the northern side of the creek. I notice a hen crossing a sand bar and heading up the northern bank. Smart little devils this time of year.
Our next point is a hen. Up close and personal. She like the others glides farther up ahead. We reach the drop point and Sophie finds rooster one on his back and brings him to hand. Sophie goes on point immediately after leaving me to the right. On the edge and I decide to close in from the north directly back at her. I do not do this often but her intent is strong and she steadies as I approach. Rooster two and three take to wing as I close in. Shot one finds it mark and I see the lifeless tumble, floating to the left I pick up rooster three as he curls to head east with his partners. Shot two connects and he falls to just his tail feathers showing from the snow.
As Sophie and I retrieve these two I have more and more birds flushing from the switch grass. I marvel at the final numbers. 26 hens, 24 roosters(including the three) were calling that filter strip home.
Sophie and I drove the area for a time after and saw birds in many groves and fence lines in the area. I noticed three fields with birds out actively feeding in them.
All three birds had crops full of beans and very healthy fat deposits. With a gentle winter and drier spring, next season could be even better in the northwest!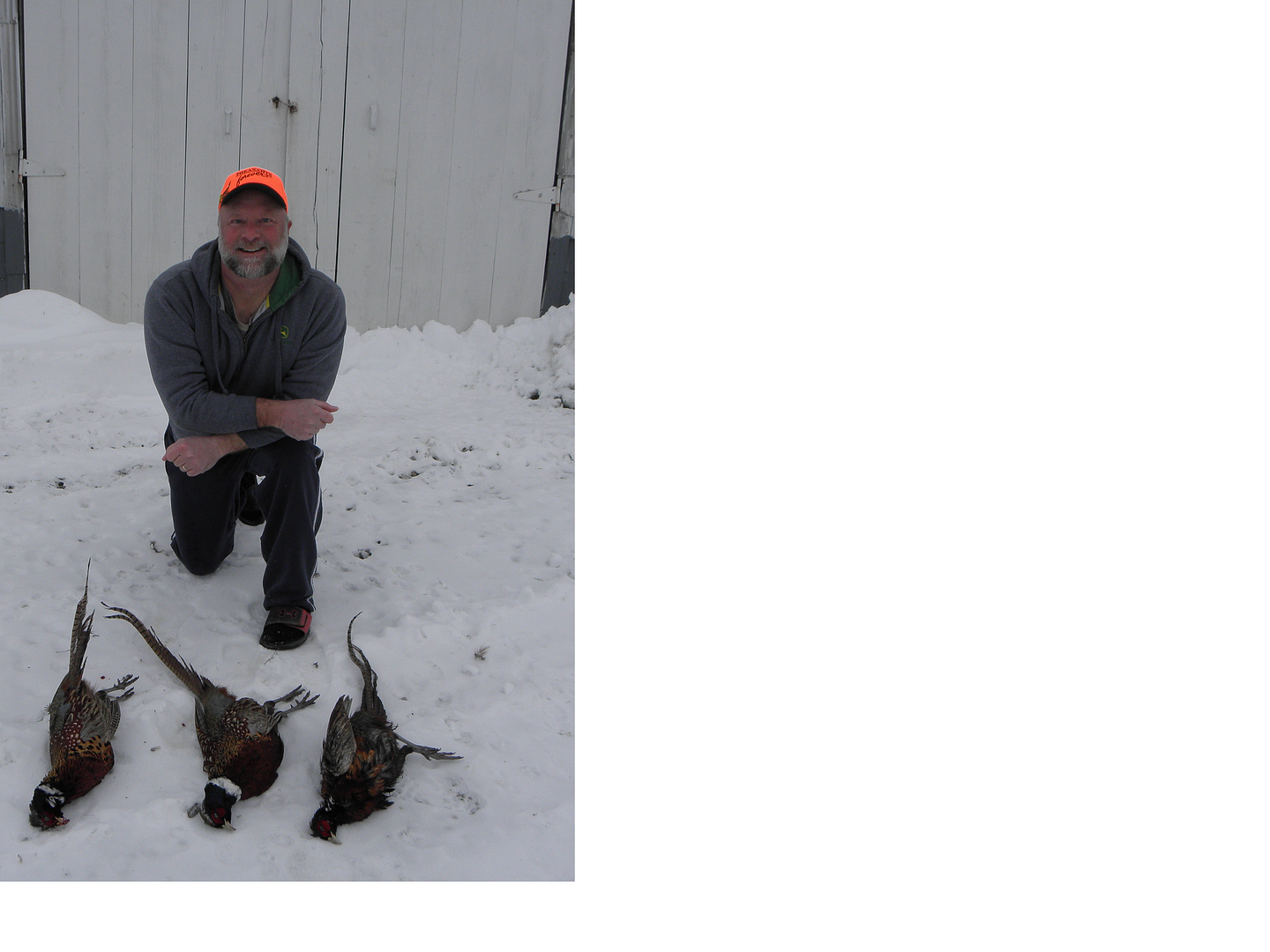 Last edited: