After 38 years of chukar hunting in rocks, rock ptarmigan on steep slopes, blue grouse hunting on steep avalanche shoots, and may falls in icy conditions,
my 1984 Browning Citori stock is toast. I fell yesterday on a steep icy slope and fell today with 2 inches of fresh snow over ice. The missing part is lost somewhere in the snow in Montana.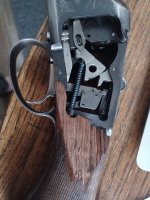 Will a replacement stock fit the receiver or will I have to take it to a gunsmith to fit the stock to the receiver?
Also any suggestion for a stock bolt with torx or hex head instead of the old slotted head stock bolt?
Thanks.