Sophie and I headed out after the awesome Iowa game to some of our favorite public hunting land each year south of Ocheyedan and Emmetsburg. We love the smaller public spots south of these towns and the awesome cover it seems they have every year. Doesn't hurt that there are many of them too!
In the field at 8:23 a.m. Cannot believe how sunny, calm, and quiet it is! I did not see another hunter in town or on our way out to our first spot. Only a little snow along the edges of the crp cover. No ice--but I can tell they had some decent rains as ice glimmers in the sunlight in the low lying areas of the crp.
Our first flush--a hen comes off of Sophie's nose. I notice a pile of rooster feathers off to the left. It has one of the primary tail feathers as well. This is public hunting after all and the 5th week of the season. I also notice quite a few roosting spots in this area. Much of the sign appears fresh. We continue on. Our next three points are hens and the kind that get your adrenaline pumping. Up close and personal. I put a shooting glove on my left hand. Cold but quiet as we continue on. As we near the first corner of the cover Sophie wants to head to the left. Runners I thought to myself, lets push out to the corner. A hen jumps wild to the left, Sophie approaches the corner and slams to a stop. She is rigid and staunch. I close in to rooster number one on a high, cackling and right to left crossing shot. He falls to the shot of copper 5's. We continue on now to our left. I move out to check the edge for snow and sign. I have two, maybe three rooster tracks cut in several hen tracks and they are all fresh. My running hunch proves correct and I observe Sophie slowing to a predator's creep as we near a cattail patch. I can hear her footsteps crunching on the ice and then silence. As I approach the hen off of her nose takes to the air and causes three more hens to flush. I gather Sophie and redirect her to the cattails. Rooster two flushes on a slightly left of straight away flight and tumbles to the shot. Another rooster flushes to the right and I let him go. Why? I wish to hit another spot or two today and it is only 9:30. We flush three more hens and one wild rooster on our way out of this cover.
On the drive to public parcel two I see two roosters sunning themselves in a private grove and one rooster along the ditch edge of the gravel road. Seems like everyone wants a bit of sunshine today!
We enter parcel two at 10:10 a.m. What I love of this area--many places to hunt and close to each other. We start into the wind by walking several hundred yards of chisel plow. Those earlier runners reminded me of why we are doing this. As we enter the cover Sophie is immediately "birdy". We travel about 35 yards when she whirls and locks up to my left. I approach and two hens simultaneously flush with one more shortly behind them. I am watching when a rooster--and a cackler flushes to my right and directly in front of Sophie. I take the shot and he tumbles hard to the tundra. He hits an ice-filled bottom and desperately tries to flee. He cannot gain traction and begins to cackle continuously as Sophie closes the distance. I am privileged to watch Sophie take this bird out of the air as he hops to flee. Our day is done at 10:46 a.m.
I did not see another hunter and we heard one other shot this morning. I don't know what to make of this?
What a beautiful day to hunt pheasant in Iowa
!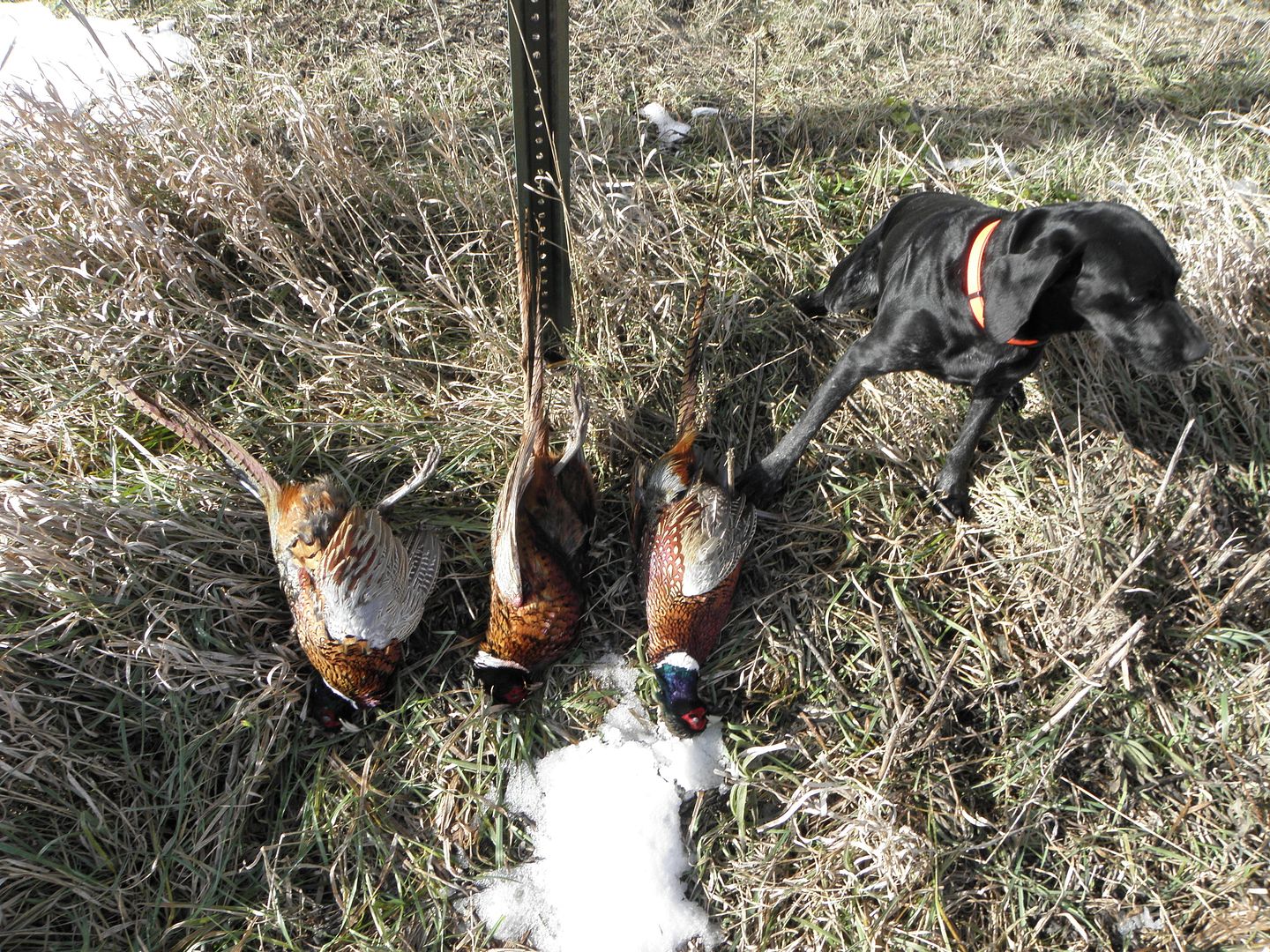 Last edited: