Bump for the new folks...
For Sale:
Beretta 686 Silver Pigeon I over and under shotgun.
$1900.00
$1750.00
$1650.00 shipped to your FFL or $
1900.00
$1700.00
$1600.00 if face to face in the Pierre or Sioux Falls area. PM me on this site or email me at Beretta686forsale605(at)gee-mail(dot-com). Sorry for the quality of the pictures; I am no photographer. If you want pictures of anything else please PM or email me. Thanks for looking!
Specs:
Weight: 6.9 lbs
Barrels: 28"/Steel proofed
Chambers: 3"
Chokes: Includes Skeet/IM/IC/Full/Modified flush mount chokes and choke wrench
Gun comes with choke tubes and wrench, owner's manual, Beretta oil, and hard case. Selling this one due to medical bills and it just sits in the safe. I used it for a round of skeet and never took it out again. Other than some slight handling marks on the wood (circled in red in pics below) it's LNIB.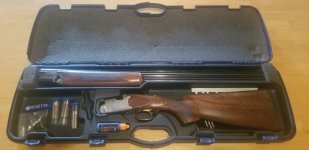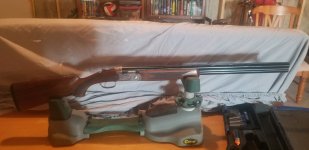 Last edited: