I hope this post encourages some of you to get out & hunt in the last couple weeks of the season. There are definitely plenty of pheasants out there, & since it looks like it could turn into a long winter for them, as many roosters need to be shot as possible to take a little pressure off the hens.
Saturday I drove up the interstate about 100 miles to hunt with Golden Hour. Thanks for inviting us up, Lucas. During my drive, I saw many, many groups of pheasants out feeding &/or looking for gizzard grit, some small, some quite large. It was a little hard to keep track of, but my guess is I saw 750-1,000 pheasants....just driving up to hunt.
We hunted 2 private spots he has access to that contain cattail sloughs & food plots (corn). There are also large shelterbelts nearby. I'd say there was about 11"-12" of snow on the ground. Drifting, of course, presented some significant challenges. They'd apparently had ice in the area before the bulk of the snow. In some spots, this bent cattails over & has held much of the snow up about 3.5' or so off the ground. I can't imagine a safer, warmer place for pheasants under these circumstances. They get under there & don't want to come out, unless STRONGLY encouraged by a good pheasant dog. Similarly, a medium-sized, brown & white dog gets under there & gets disoriented until his human makes enough noise to be located. All that said, the corn plot was empty when we arrived & walked it first. But all the pheasants were in the slough. Most flushed wild & escaped safely. Again, a difficult estimate, but I'm guessing somewhere around 150 pheasants. 5 roosters did NOT flush wild & paid the price, although 2 were not recovered (which had appeared to be hit well too). We witnessed amazing dog work during our hunt, & judging by a couple birds the dogs DID recover, it really makes me wonder what, exactly, a significantly wounded rooster has to do in heavy cover & snow to successfully evade TWO pretty damn good, experienced dogs. I've said this before, but a rooster's will to survive & ability to do it boggles my mind. I hope those 2 heal to fight another day. And if not...coyotes need to eat to.
At the second spot, we found a good number of pheasants in the food plot, but I think the majority were in the slough. Again, I'll guess there were around 150 pheasants. That we SAW. Makes you wonder how many you DON'T see. We finished our limit without too much effort, although most birds were pretty darn wild (not surprising). One interesting thing we saw here was that, although they have easy access to corn & are certainly eating lots of it, they'd really been scratching/searching at the base of cattail clumps in the slough, as well as tearing into muskrat huts. I'd seen that before, but not to this extent (possibly just due to numbers of pheasants in an area). Our best guess is they're trying to get at cattail roots & possibly find a little gizzard grit in the process. I also wonder if they could possibly be after something like dead bugs or snails. Much of the stuff they scratched out of the way, they were obviously avoiding eating. Anyway, we hunted under 3 hours & had a fantastic day, punctuated by a couple of mystifying instances of "How in the world do Sage & Ace do what they do??"
Sunday Ace & I hunted public land, specifically a relatively small WPA that I commonly hunt 3-4 times a season. This area had roughly 24" of snow on the ground. The only thing of value right now on the WPA is the cattail slough, so that's what we hunted, & it was the most physically challenging hunting I've had in a long, long time. I suspect it's the most challenging work Ace has EVER had to do in his 4 seasons. Within 1/2 mile of "my" slough are a couple other sloughs, a couple big, thick shelterbelts, & picked corn/bean fields, all on private land. But some pheasants were in there, most of which began to flush before we even got to the slough, or in the first couple minutes of entering the cattails. I verbally identified each rooster I saw & checked my GoPro footage afterward. I believe we saw about 30 pheasants in 45 minutes, which is a real good number for that little spot. I've seen it hold more a few times, but commonly not quite that many. The unfortunate thing is of those 30 birds we saw, 11 were roosters. Fun for hunters, but too many! Fortunately, Ace & I (mostly Ace) were able to assist the hens & eliminate 3 of the 11. And I strongly suspect there are more roosters in the area somewhere, so we may get out there, bust our behinds, & try to help out those hens one more time in the next couple weeks. We're pretty serious conservationists.
The short story is Ace & I had a really great weekend of pheasant hunting. Please get out there & shoot some too!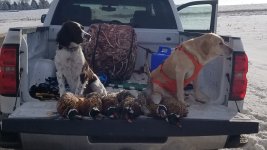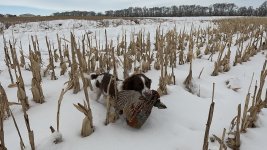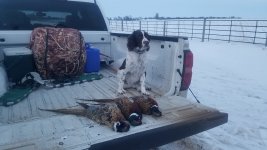 Last edited: