Owing to some health issues, one after another, I didn't get out last year, and had some trepidation about my leg strength for hunting this year.
Tinker and I went out earlier this week to try out my legs which did not do so well. No birds and no energy to hunt the nooks and crannies to find some.
We went out again today, and turned out doubling the distance of the earlier hunt, and worried up this bird on the trip back to the car.
Tink thought she was in a Sporting Dogs photoshoot. I could look over her head and see the rooster 10 yards or so ahead of her; she was solid and the bird was immobile-really a memorable sight.
I gave Tink the go-ahead, the bird went up and away to the left, and accidentally ran into my shot pattern.
The rest was just like former years: retrieve, praise, field dressing the bird, heart and liver to Tink and a small thank you to the times and dogs of the years past.
I'm drained, but hoping I can build on this for hunts in the near future.
I used the Winchester 370 single shot 12ga, cut down and with a mod choke. I'm not ready for a heavier gun for a while yet.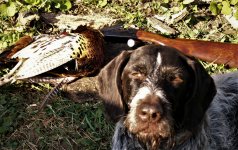 Last edited: